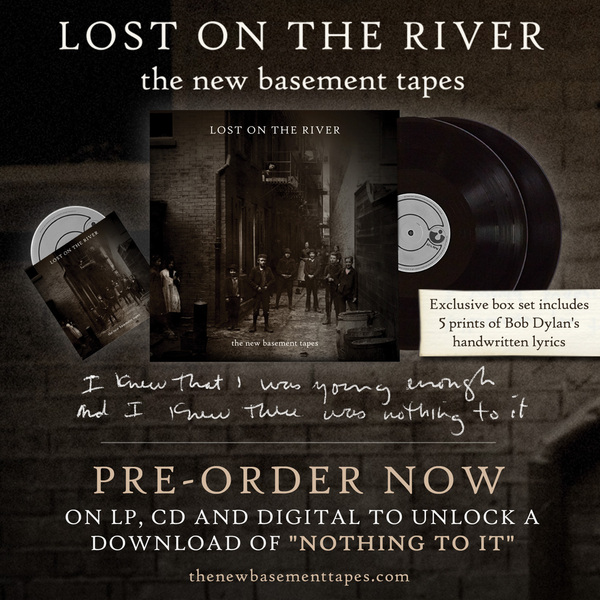 08/19/2014
Recently Jim James, Elvis Costello, Rhiannon Giddens (Carolina Chocolate Drops), Taylor Goldsmith (Dawes), Marcus Mumford (Mumford & Sons) and producer T Bone Burnett gathered in Capitol Studios to create music for two-dozen rediscovered lyrics written by Bob Dylan during the legendary Basement Tapes recording sessions, which took place in the summer and fall of 1967.
The new album, Lost On The River: The New Basement Tapes, is set to be released November 11 and will be accompanied by a documentary titled, Lost Songs: The Basement Tapes Continued, directed by Sam Jones (the Wilco documentary, I Am Trying To Break Your Heart). The film will present an exclusive and intimate look at the making of Lost On The River: The New Basement Tapes set against the important and historical cultural backdrop of Bob Dylan's original Basement Tapes.
Pre-order the exclusive box set, and you could receive one of 20 LPs autographed by members of the band.
Tracklist:
01 "Down On The Bottom"
02 "Married To My Hack"
03 "Kansas City"
04 "Spanish Mary"
05 "Liberty Street"
06 "Nothing To It"
07 "Golden Tom – Silver Judas"
08 "When I Get My Hands On You"
09 "Duncan And Jimmy"
10 "Florida Key"
11 "Hidee Hidee Ho #11″
12 "Lost On The River #12″
13 "Stranger"
14 "Card Shark"
15 "Quick Like A Flash"
16 "Hidee Hidee Ho #16″
17 "Diamond Ring"
18 "The Whistle Is Blowing"
19 "Six Months In Kansas City (Liberty Street)"
20 "Lost On The River #20″